10 Tips for Importing Mid-Century Furniture from Europe
Collecting mid-century furniture from local garage sales and thrift stores was profitable, but finding the beautiful pieces was a miracle, more and more San Francisco antique furniture experts searched for Danish chests of drawers, tables, and chairs wherever they went, even at mid-century furniture auctions soaring prices that put off dealers from smaller towns like Reno, Nv. We had a successful shop on Etsy but no stock, we always wondered where the biggest dealers in San Francisco and Los Angeles would get the furniture from. My wife was watching the competition's movements closely,here is the update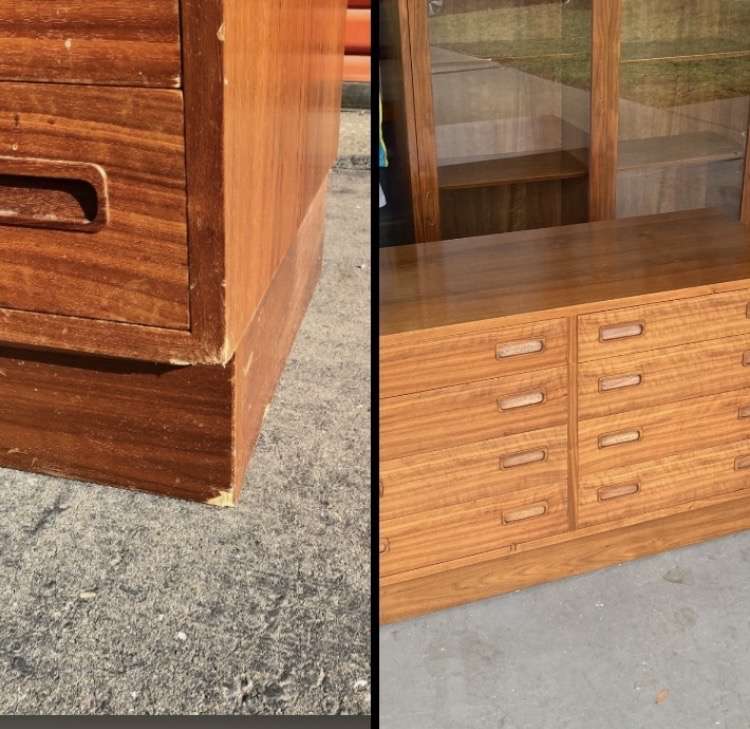 one day we saw the familiar streets of Bristol England in the background in the Facebook photos. We decided that we would also bring a container full of beautiful teak pieces from Europe – we just had to find the answer to a few questions: Where exactly should you look for more furniture in a small space? How to transport them from nearby villages and towns? Where to store them and how to pack them into a container? And how to pack furniture in a container so that it is not damaged during sea transport.
We had mastered most of the basic principles of running a second-hand furniture business. Perfect Shipment with Pilot Freight Services A local shipping company from Sacramento, CA was perfect. We packed furniture sold in our shop on Etsy into a box made of 2" Styrofoam and cardboard boxes and wrapped it tightly with tape. The shipping company picked them up from our store in Reno, NV and transported them to the farthest corners of the United States at a very fast pace. Each piece of furniture was insured for its full value, which ensured us and our customers that their beloved mid-century dresser or coffee table would be delivered to their home in one piece. Outstanding customer service and reviews on Etsy, Google and Yelp only contributed to the success of our plan. Where to look for furniture in a country where I have never been was the greatest challenge, because I can't look for a furniture pieces on the internet at night, arrange a purchase, and deliver dressers and end tables to my destination during the day. My wife, however, had a detailed plan that we worked out to perfection. So here we go: Ticket to Bristol, England – bought. Delivery van waiting for me at the airport – checked.
I will not waste time and the next 24 hours I am already there, hmm- I am but my luggage is not "Welcome to Europe" lol , but I am not giving up. When I slept like a bear on a plane after 4 sleeping pills, my wife managed to contact a few people from Bristol and arrange to buy a few Danish chests of drawers. I have got to move fast, go straight from the airport to rent a warehouse, and collect pieces. The whole car is loaded in one day, what a success, I'm excited, I'm happy and I'm unloading the furniture into the 40ft container and … oh crap I barely fill the first row of container and the whole day is behind me.
We must come up with something else to do it faster, so I get in with the smaller car and drive around the local used furniture stores, antique stores, moving companies, my wife sends me addresses and makes an appointment. I finally enter a huge store with used furniture and… bingo, I can buy a few to a dozen pieces at a time, I do not worry about transporting them to the warehouse – I am only a worker and the operation brain is at home in Reno, Nw. I have always had access to people, and I knew how to talk to them, I learned it in my studies in Poland, but I perfected when running my physical and online store. I have always fallowed two rules:
Rule number one: The customer is always right!!!!!
Rule number two, if the customer is wrong … then look at rule number one. After a week, I had already bought furniture that I could fill the entire container with and … Reality check, the weekend has come, nobody works in England, second-hand furniture stores are closed, I can't afford to lose two days, what should I do?
My wife is on top, she sends me emails with the auction sites, good for me that not to many people looking for mid-century furniture in the middle of nowhere, so I can outbid everyone at the auction site. In the meantime, I have met a few Poles who deal with transport around Bristol and London, I know that I will not be able to accomplish my mission without their help.
After a few beers and a successful trip to the nightclub, we start working together, we bring the purchased Danish tables, chairs, chests of drawers, bedside tables, whatever you can dream of into to the warehouse. It's finally loaded the 40ft container to the ceiling – it has been two intense days. I'm starting to pack the furniture and transfer from one container to another. Not eating much, just a simple meal:
red bull, French roll, banana-red bull, banana, French roll,
I'm exhausted and haven't finished half the container. I hire helpers and the next day we start packing the rest, it is all right now, job is moving forward. Now we only must transfer them to a container from the seaport in two hours – about 250 pieces of furniture in 120 minutes. I'm hiring more new guys. Time start. And the container is packed within an hour, seals, signs the papers. I have loaded the entire container with furniture and sent to US. I invite the entire team to dinner, which turns into an all-night party all over the Bristol, came back home with the biggest hangover in my live in the morning, pack my belongings a quick, and back to the States. My plane takes off by noon. Now I have a month to go through the paperwork with customs, make room in the store, and list all the merchandise on Etsy. Fortunately, I took photos and dimensions while still in England, so I could already put the furniture on the website, the photos helped customs and the container was cleared through without any obstacles.
The cost of the entire trip: furniture, car, hotel, plane, helpers $ 25,000. Already in the first month we sold 1/3 of the goods on Etsy, in three months we earned $ 125,000 -Success paid, now the bugs need to be eliminated and the next stop is Bristol. Business must develop, and we must keep going. I'm guided by one motto in my life.
"We keep moving forward, opening new doors, and doing new things, because we're curious and curiosity keeps leading us down new path"