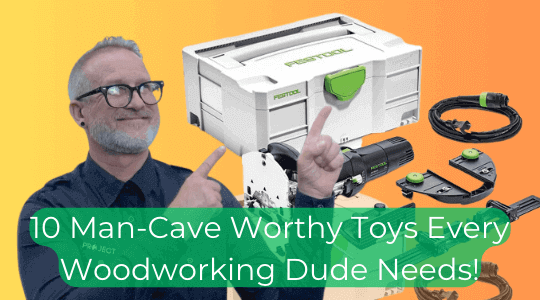 10 Man-Cave Worthy Toys Every Woodworking Dude Needs
Ah, the man-cave. A sanctuary where one escapes the hustle and bustle of daily life, indulging in the passions that ignite the soul. For those with a penchant for woodworking, this sacred space transforms into a haven of creativity, filled with the aroma of freshly cut timber and the comforting hum of machinery. But, to truly elevate your woodworking game, there are certain toys – no, let's call them essential tools – that are non-negotiables. Whether you're a seasoned carpenter or a newbie just getting your hands dirty, these ten items are sure to make your man-cave the envy of the block. Read on and gear up for a woodworking experience like no other.
10. Festool 577008 TSC 55 KEBI-F-Plus-FS Cordless Track Saw w/55" Guide Rail
The Festool TSC 55 KEBI Cordless Track Saw offers advanced safety with its unique kickback stop feature, which instantly halts the saw blade to protect the user and workpiece. Along with this, the saw boasts a dual lithium-ion battery system, offering as much power as corded saws but with cordless freedom. New saw blades combined with this power ensure impeccable cutting quality. Its design allows cuts close to edges, precise angle cuts from 90° to 47°, and a user-friendly depth setting. The transparent window ensures a clear view of the saw blade, while the clip-on splinter guard ensures minimal splinters on both cut sides. Saw blade changes are made easy with the FastFix system. Made in Germany, this saw ensures safety, precision, and efficiency in every cut.
9. SUIZAN Japanese Pull Saw Hand Saw 9.5 Inch Ryoba Double Edge Flush Cut Saw Woodworking tools
The SUIZAN Pull Saw is a Japanese-style tool, differentiating from the common European "push saws". Lighter and requiring less force, it ensures cleaner cuts. Made from top-grade Japanese steel, it guarantees sharpness. Produced by master craftsmen in a renowned Japanese craft town with a history exceeding 100 years, it offers a unique woodworking experience. Suitable for both rip and cross cuts, the blade measures 9.5″, with a thickness of 0.02″ and kerf of 0.03″. Each hand-wrapped handle may slightly differ in appearance, and any cracks are natural and not considered defects.
8. WORKPRO 5-Piece Hammer Set, Forged & Polished Steel Head, Fiberglass Handle
WORKPRO 5-Piece Hammer Set: This set includes a 3lb sledge hammer, 16oz ball peen, 16oz claw hammer, 32oz rubber mallet, and 22oz double-faced mallet, catering to various tasks and enhancing efficiency. The ergonomic fiberglass handle minimizes vibration, reduces fatigue, and ensures a secure grip, complete with a storage hole for convenience. Made from high-quality steel, the hammerheads resist corrosion, with the claw hammer designed for nail extraction, and the ball peen for shaping metal. The rubber and double-faced mallets protect work surfaces and minimize noise, with the latter having replaceable heads for longevity. Trust WORKPRO for durable hammers; contact us with any queries.
7. Tool Organizer - Small Tool Bag with Zipper, ToolBag W/2 Detachable Pouches - Heavy Duty Roll Up Tool
Compact Tool Roll Bag: Perfectly sized to fit numerous tools like wrenches, pliers, and ratchets. This camo-designed bag features 4 large compartments and 2 detachable pouches with D Loops for smaller items. Crafted from durable materials, it has rust-proof zippers, quality straps, and water-resistant fabric as strong as canvas. Ideal for organization, hang it in your garage or workspace. Essential for professionals, this tool organizer is versatile for boat, car, or motorcycle repairs and emergency kits.
6. DEWALT 20V MAX Power Tool Combo Kit, 10-Tool Cordless Power Tool Set with 2 Batteries and Charger
The cordless drill combo kit includes:
DCD771: Offers two speeds (0-450 & 1,500 rpm) for diverse drilling tasks.
DCF885: Features a 1/4-inch hex chuck with 1-handed loading for 1-inch bit tips.
DCS381: Comes with a keyless blade clamp for easy blade changes without contact.
DCL040: Bright flashlight with an LED output of 110 lumens.
DCE100: Provides a Max Air Flow of 100CFM.
DCS393: Uses a 6-1/2-inch carbide blade, capable of cutting 2×4's at 45° in one pass.
DCR006: Compatible with DEWALT 12V/20V max batteries and includes Bluetooth 4.0.
5.Fuji Spray 3005-T70 Q5 Platinum - T70 Quiet HVLP Spray System
5-Stage Turbine produces 9 5psi featuring Variable Speed Control Dial allows user to adjust motor speed

Quiet turbine – Patented noise reduction feature + Heat Dissipation Chamber (HDC)

Professional Spray Gun features convenient side Pattern Control Knob to adjust size of fan pattern from small to large

25ft hose includes air control valve to reduce overspray and bounce back

Includes the 5-for-5 Bonus Kit
4.Shop-Vac 5989300 5-Gallon 4.5 Peak HP Stainless Steel Wet Dry Vacuum,Black, Black
Powerful & Portable: This 5-gallon stainless steel Wet/Dry Vacuum boasts a 4.5 peak HP motor. With a full circumference dolly, top and side handles, it's easy to transport. Accessories include a 7-foot hose, extension wands, nozzles, and various filters. Shop-Vac offers a comprehensive range of cleaning products for all needs, from home to commercial use. An American staple for versatile cleaning solutions.
3. DEWALT 10 Inch Table Saw, 32-1/2 Inch Rip Capacity, 15 Amp Motor, With Rolling/Collapsible Stand
Your purchase includes one Dewalt table saw, 10inch 24-tooth carbide blade, rolling stand, push stick, miter gauge, rip fence, 2x blade wrenches, blade guard assembly manual

Other Specs: Max rip to left of blade – 22inch | Max rip to right of blade – 32-1/2inch | Max width of Dado – 13/16inch | Arbor size – 5/8inch | Amps – 15 | Depth of cut at 45inch – 2-1/4inch | Depth of cut at 90° – 3-1/8inch | No Load Speed: 4800 RPM

Rolling stand designed for easy set up and breakdown with excellent stability

Rack & Pinion Telescoping Fence System Make fence adjustments fast, smooth and accurate

Features a 15.0A high torque motor with the power to cut pressure treated lumber and hardwoods
2.MICROJIG GRR-RIPPER GR-200 Advanced Adjustable Table Saw Pushblock, Yellow
GR-200 Features Include: 3-Directional Force for total control of the workpiece and virtually eliminate kickback

Moving-Blade-Guard Hand protection.Cutting Range (Table Saws):1/4 to 5 inch

Precise 1/4″ thin rips

Stabilizes for cutting bevel rips, resawing, irregular-shaped stock, dowels, dados and more

Designed in the USA. A true MICROJIG Innovation
1. Festool Cordless Drill CXS 18 HPC4,0 I-Set US
The CXS/TXS 18 is a compact yet powerful drill-driver with 18V capability. Available in C and T shapes, it's versatile for everyday tasks. It seamlessly integrates with all current 18V Festool attachments using the CENTROTEC system and FastFix interface. Features include an LED light with customizable settings via the Work App, belt clip, 18V battery, and a Systainer³ lid compartment. The CXS version is notably compact at 6-5/32" length and 8-1/8" height. Despite its size, it handles screws up to 1/4″ and works efficiently with Forstner drill bits up to 1-3/8″ and screws up to 1/4" x 9-1/2" in softwood. An all-rounder for precision in all lighting conditions.
In the article "10 Man-Cave Worthy Toys Every Woodworking Dude Needs," the emphasis is placed on the seamless blend of tradition and modernity in the woodworking realm. The modern man-cave isn't just a space for leisure; it's a sanctuary for craftsmanship, precision, and innovation. From digital enhancements like laser measurers and 3D wood printers to timeless tools that have been redefined, such as routers and planers, the modern craftsman is well-equipped to tackle any project. Whether you're a seasoned woodworker or just diving into the craft, these tools not only elevate the quality of work but also enhance the experience, making woodworking more efficient and enjoyable. Every enthusiast, in their dedicated space, deserves tools that reflect the passion and dedication they bring to their craft.
The KINGTOOL Wood Chisel Set is a toolbox essential, offering a comprehensive range of heat-treated tools, accompanied by a honing guide, sharpening stone, and additional tools for diverse woodworking jobs. Its ergonomic handles and superior performance make these tools indispensable for both amateur and professional carpenters.
Illuminating your projects is the COB LED Portable Work Light, a super-bright, handheld tool featuring powerful COB LED chips and three distinct modes. This waterproof tool ensures functionality in any weather, making it a versatile tool for various outdoor activities.
Accuracy meets versatility with the Digital Precision Measuring Tool, a tool equipped with an Advanced Onsite Sensor and a multifunctional approach to measuring in both inches and metric units. This tool is resistant to dirt, oil, and water, ensuring reliability in challenging conditions.
The Adjustable Pocket-Hole Jig K4 by Kreg is a tool embodying precision and adjustability. This tool, with a 3-hole drill guide and a large clamping recess, becomes a trusted companion for a customizable setup in every project.
Elevate your painting experience with the Professional Turbine Spray Gun, a tool featuring a convenient side Pattern Control Knob and an ergonomic stay-cool handle. This painting tool ensures a smooth application every time, whether for small DIY projects or large commercial constructions.
The Cordless Circular Saw is a fundamental tool offering straight, accurate cuts and high maneuverability. This cutting tool, with a quick-adjust bevel capacity and added safety features, is a must-have tool for every craftsman on the go.
Create the perfect workspace with the Keter Folding Table Workbench, a sturdy, portable tool with a foldable design and built-in carrying handle, supporting up to 1,000 pounds. This versatile tool is further enhanced by the inclusion of clamps to secure a variety of working materials.
Lastly, experience the blend of power and precision with the M18 FUEL Brushless Cordless D-Handle Jig Saw, a cutting tool leveraging advanced technology to provide higher blade speed than corded tools, featuring user-friendly adjustments.
Each tool in this collection offers a unique contribution, ensuring unmatched performance and versatility for anyone looking to achieve excellence with their tools. These essential tools of 2023 are designed to guarantee satisfaction and success in every endeavor.
Embracing these tools means investing in a sanctuary of functionality and precision, where every detail is crafted with your utmost convenience in mind. These selections beckon you to experience a luxurious embrace that caters to your well-being, offering not just tools but a suite of solutions that understands and meets your desires for efficiency and excellence. It's not just about using tools; it's about mastering your craft with unparalleled luxury and precision. Choose your tools wisely, for a revolution in craftsmanship awaits!
Number2project is a renowned furniture repair and restoration service provider in Sacramento, specializing in antique, modern, and custom-made furniture. Our experienced team offers a range of restoration methods, using high-quality materials to rejuvenate your furniture to its original state. Understanding the unique value of each piece, we provide personalized services, working closely with clients to meet their expectations. In addition to repair and restoration, we offer custom furniture design and fabrication, ensuring each creation reflects individual style and personality. Our mobile services bring convenience to your doorstep, with our technicians equipped for on-site repairs, saving you the hassle of transportation. Driven by passion, we pride ourselves on affordability, offering free consultations to gauge your needs and ensure satisfaction. In essence, Number2project is your one-stop solution for bespoke furniture services, committed to restoring the beauty and uniqueness of each piece. Contact us for a complimentary consultation to discover how we can revitalize your cherished furniture.